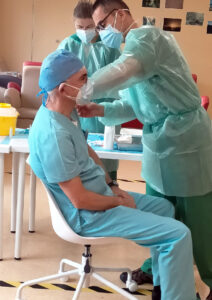 The second dose of the vaccine reaches the Gerontological Complex "La Milagrosa".
January 28 was not just any Thursday, having gone through different complicated situations caused by the pandemic, workers and residents begin to "see the light at the end of the tunnel".
The second dose came just 21 days after they were given the long-awaited vaccine for the first time. Although we are already beginning to breathe a certain air of hope and optimism, we must continue without let our guard down and take special care until we obtain immunity.
In the photograph, José Carlos Millán, director of the complex, receives the second dose of the covid-19 vaccine.